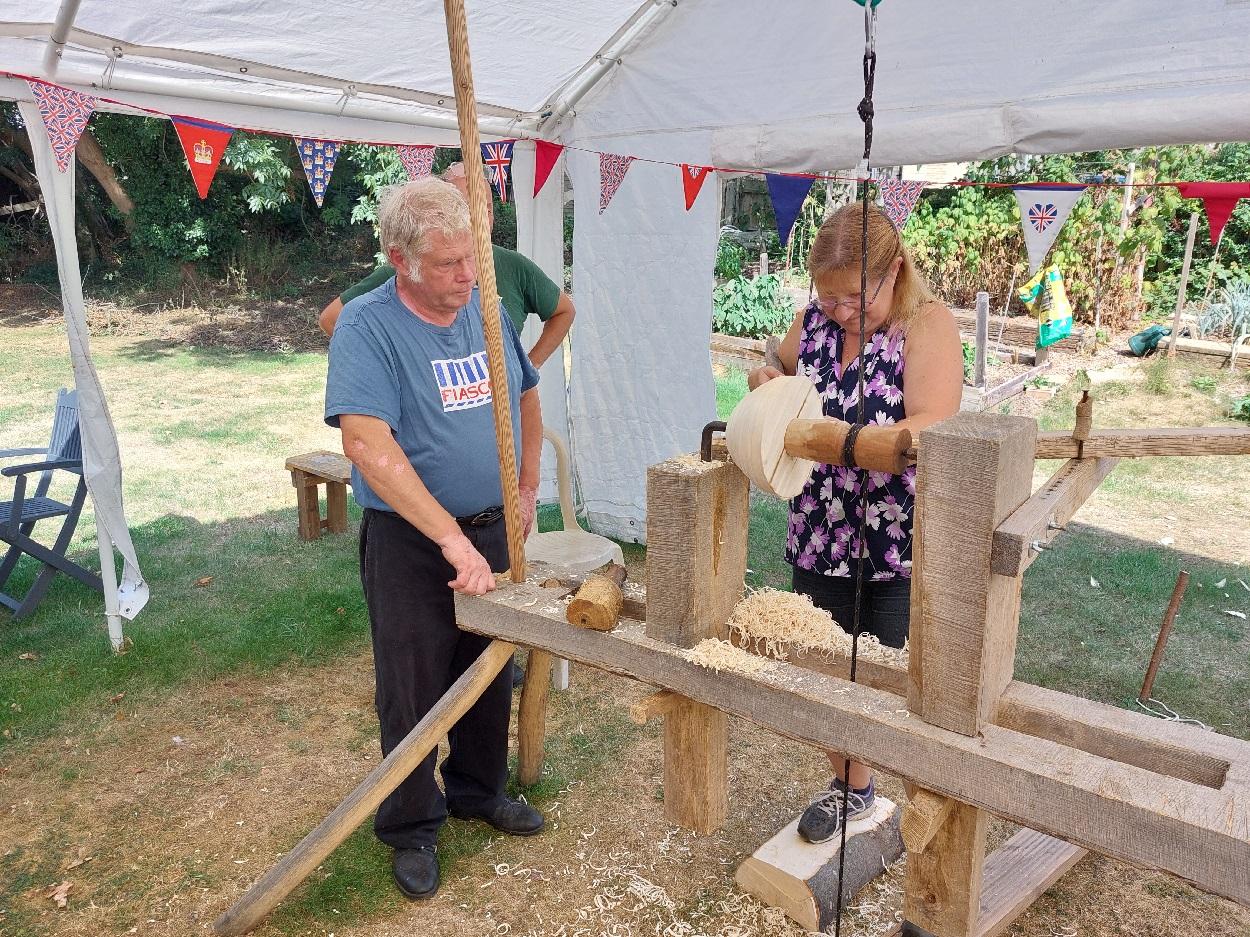 Teaching greenwood bowl-turning is a new venture for me and is something I have only recently started offering. It is surprising just how much I have enjoyed the experience. I am finding satisfaction in passing on my knowledge to the next generation of bowl turners and enabling more people to get a taste for this craft that I love.
The benefits of teaching bowl turning are very evident. Not only do I get immense satisfaction from seeing my students' progress, but I have also improved my own turning as a direct result of teaching others greenwood working.
Latest Wood Turning Success Stories
Let me introduce Mark. He attended a summer 1-2-1 bowl-turning course with me at Linton's Gallery Above.
Since completing his first greenwood bowl, Mark has built his own pole lathe and started making hook tools to continue bowl-turning with his own set-up.
Paul attending a Bowl-turning Taster Session
I would also like to introduce Paul. Paul attended a bowl-turning taster session at Haddenham Arts & Crafts. Paul joined a few other newbie woodturners on the course to work on a communal bowl. Since the bowl turning course, Paul built a pole lathe and some excellent wooden bowls.
Why is passing on the greenwood working skills so important?
According to Heritage Crafts, pole lathe turning is considered a viable craft. This means that the skills are being preserved and actively taught to new craftspeople. However, this was not always the case. The UK's last turner passed away in 1958.
George Lailey, ironically from Turners Green in Berkshire, was the last professional pole lathe turner. Unfortunately, he passed away in 1958 without passing on his skills.
Greenwood Bowl-turning Rennaisance
Fortunately, in the 1990s, Robin Wood researched pole lathe turning and revived the craft. Today there are over 1,000 members of The Association of Pole Lathe Turners and Greenwood Workers. Mostly the membership is made up of hobbyist turners, but there is a growing number of professional turners offering courses and selling bowls.
Why not try something new in 2023 and learn a traditional craft with me on a 1-2-1 course or a taster session? Dates will be announced as they are confirmed.